Fully customizable clock on Windows Desktop - Godot mini project with full tutorial video!
Build your own fully customizable analogue and digital clock to Windows Desktop in Godot / GDScript.
All in one single script with 88 lines only!
Follow the step-by-step YouTube tutorial or download the source code from itch.io!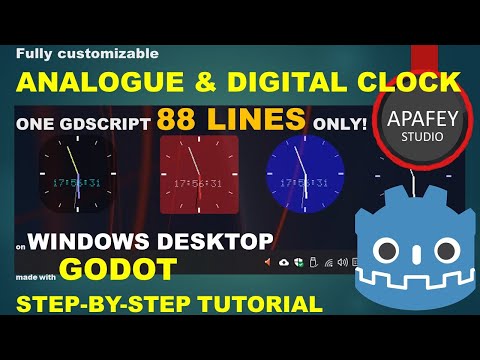 https://apafey.itch.io/fully-customizable-desktop-clock
The working exe file is free to download.
The source code costs 1$ but you can write it in 30 minutes following the step-by-step tutorial!
THINGS YOU LEARN WITH THIS MINI APP:
Make borderless, trasparent app on Windows Desktop
Detecting long press right mouse click
Load / save settings to cfg file
Modify theme and style on-the-fly
Drawing and rotating lines around a circle
and much more...
Find more Godot tutorial on my YouTube channel:
https://www.youtube.com/c/ApafeyStudio
Follow me on Facebook:
https://www.facebook.com/apafey
Twitter:
https://twitter.com/NeverDeeJay
itch.io
https://apafey.itch.io/
Soundcloud:
https://soundcloud.com/magnipapi
Godot forum:
https://godotforums.org/profile/Apafey
Tags
: