Navigation 2D and Get Simple Path
TheJabberwocky
Posts: 1
Member
Hello and thanks for looking into my problem! Very new to Godot, coming from Unity, and I'm trying to work out how to do some simple pathfinding. I followed these two tutorials mostly while trying to figure this out: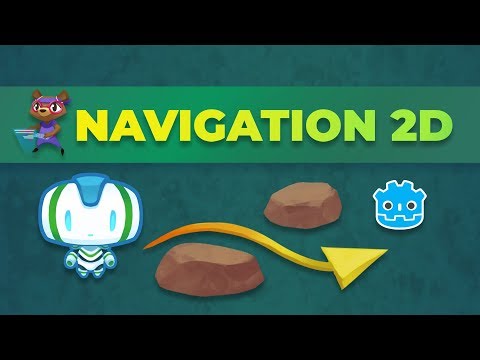 and https://www.davidepesce.com/2019/11/19/godot-tutorial-how-to-use-navigation2d-for-pathfinding/
My problem is that after putting together a scene with two tilemaps (one containing only textures and no nav/collision info), and the other built with navmeshes in the tileset (built from a scene).
This is the script managing input and attempting to draw the pathfinding line that is found with get simple path. It's attached to the root Node2D in the scene:
class_name NavigationInputManager
extends Node2D

onready var nav_2D : Navigation2D = $"Player Ship/Navigation2D"
onready var line_2D : Line2D = $Line2D
onready var player : Sprite = $"Player/Player Sprite"

func _unhandled_input(event):
    if (event is InputEventMouseButton and event.button_index == BUTTON_LEFT and event.is_pressed()):
        print ($Player.position)
        print (event.position)
        var path = nav_2D.get_simple_path(player.position, event.position)
        line_2D.points = path
        $Player/PlayerController.path = path
        print(path)


For now, the playercontroller class does nothing, it's just a variable assignment.
Attached are three screenshots, the tileset to show how I have it set up, some output from the console that shows the character's position, the clicked position, and then prints the path; and a screen from the game that shows how the pathfinding line shows up. Any help would be greatly appreciated!
Leave a Comment