Wild Tail
DWulffMann
Posts: 8
Member
Hey thanks for stopping by and checking my game out!

I am currently working on a platforming action game in Godot 3 called "Wild Tail"(Name Not Final!).
Coming from being a big Unity user I am very interested in using Godot and I decided to take the plunge by sharing my progress as I go.
---
W.I.P.

OLD VERSION IN 2D PIXEL ART

---
SOME INFO HERE MAY BE OUT OF DATE!
What is Wild Tail?
So far Wild Tail has you playing as a creature based on a jeroba (a small long tailed mouse kind of animal). You travel through a fictional land based around the Arabian Peninsula, Northern Africa and Eastern Europe. Here you will go through different areas interacting with the various animals that live there.
Gameplay Progress:
You can do the basic platforming moves such as running, jumping, and ledge grabbing. I made some extra little moves to play with as well that involve the tail like a helicopter hovering moved and a whirlwind attack. The whirl wind attack allows the you to spin and daze other animals on the first spin. After doing another spin the dazed animal will dizzily flung off the screen. There will also be different kinds of creatures to interact with that will act as "level mechanics/gimmicks".
I also am trying to find a balance between a "mario" goal destination type of levels and more open ended Banjo Kazooie styled areas. These don't have one set goal, but you can pick which part of the level you want to go to first with fun little challenges to take up.
Scope:
I have been trying to keep this a realistic project that I could stick to and finish. Also I have been learning a lot about making games over a few years and I am ready to take up to the next level. I am aiming to finish this game in late 2020, but everything takes longer than we think so date is tentative at the moment.
Some Game Influences:
The game is inspired a lot by the now older Rare series Donkey Kong Country and Banjo Kazooie. Not only those games, but seemingly "random" games like Final Fantasy Crystal Chronicles and Toki Tori 2!
Krita:
I am using Krita do most of the pixel art. It's free and open source as well so it seems to be right there with Godot. With Krita I have been taking advantage of the index painting technique you can do with it.
GDQuest has a really great tutorial on it if you're curious: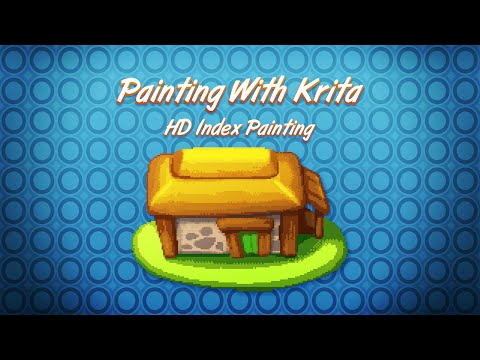 It makes backgrounds and other objects with pixel art very smooth to make.
---
Thanks again for reading if you made it this far! The game will may look like a funny little pixel platformer, but there is more to it than it seems!
Tags
: